This morning's bird-protection trip was a magnificent experience. A brief report. Click thumbnails for larger (better) pictures:
A female blackbird sits on two or three eggs in our neighbours' hedge
A selection of pictures of the first lapwing's nest we checked. The little chickens are already crawling around the nest. Watch out. You can easily step on one of them without even noticing!

The second lapwing's nest. The chickens are hatching this moment. One is dry, the other still wet and the third egg is still closed. Last week we found a fourth slightly damaged egg in this nest, but it was gone now.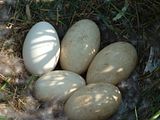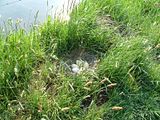 Along the way we discoverd the nest of a couple of grey geese as well. The female only flew away when we were allready very close. That's how we discovered there was a nest at all.
The whitest egg must have been layed very recently, because it hasn't been made dirty by the geese feet.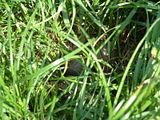 We've discovered two godwit's nests today. They're well hidden thus very hard to find and the female only leaves the nest in the high grass when you're at two feet distance. We've marked them so the farmer can mow around them instead of crushing them under his wheels.
Finally we checked the western curlew's nest wich seemed to be o.k.